Visual overview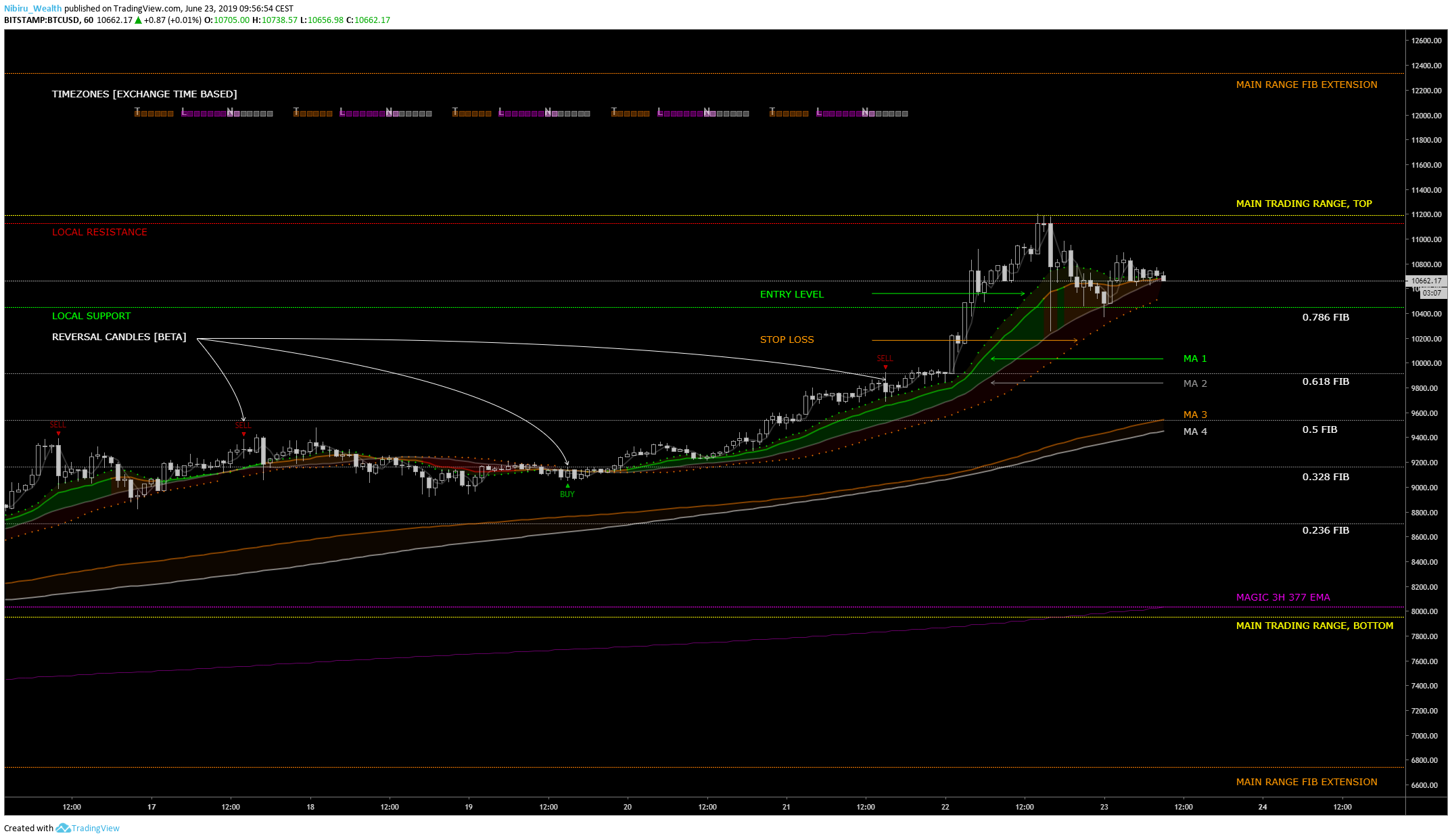 Full size: https://www.tradingview.com/x/OmuqAoj9/
Horizontal trendlines
Main trading range – dictating general price structure
Local trading range – indicating current trading cluster
Fibonacci trendlines – Fibonacci based trendlines dividing main trading range into tradeable support and resistance lines
Fibonacci extensions of main trading range – for price trending out of main range it gives potential take profit levels by extending the range by selected Fibonacci ratio
Moving Averages
MA 1 – fastest moving average for trending strategy entries. In addition this moving average provides color based information on current short term trend:
Green – uptrend
Red – downtrend
Orange - indecision
MA 2 – slower moving average for trending strategy risk management
MA 3 and MA 4 – main trend change and support/resistance zone
Magic 3H 377 EMA – typically strong support and resistance for all timeframes, used mostly for confluence with other indicators and take profit targets
Entry/Stop Loss hints
Entry dots – early entry for moving average trending strategy
Stop Loss (SL) dots – safe SL levels providing at least 1:2 RR setups at entry point
Reversal candles patterns (beta*)
Hints of potential short term trend reversals based on candle setups and patterns.
*Early beta, currently in testing–improvements and more patterns to be added.
Time zones
Indicating main trading sessions. This is a very important tool for trading traditional and OTC markets like forex. Knowing when money comes in and out of the market during the trading-day is crucial, because liquidity and volatility is the bread and butter for a consistently profitable trader.
Due to TradingView limitations, this indicator is based on the exchange time zone. In the near future we will add a time offset option to fine tune to the time zone of the exchange you are trading on. Sessions are visible on all time frames below 4H.